MNS-MCC | 100 kA MAXIMUM SYMMETRICAL SHORT CIRCUIT SCCR AT 600V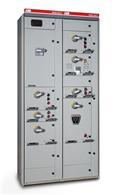 DESCRIPTION
Standard UL845, CSA and NOM
Enclosure Type: NEMA 1A
Withdrawable unit technology
UL Standard 845, CSA, IBC-2006
Available in the following nominal ratings:
600 Vac maximum
4000A max Horizontal Bus; 1600A max Vertical Bus
60 Hz
100kA max symmetrical short ciruit SCCR at 600V
The MNS-MCC by ABB offers advanced technology allowing ease of maintenance and a higher level of safety.
MNS-MCC incorporates the best proven features of a world renowned IEC product along with all UL 845 requirements into a comprehensive NEMA/UL product offering.
With is state-of-the-art withdrawable technology based on a proven global design, the MNS-MCC provides a higher level of safety while minimizing factory downtime.
The insulating and isolating properties of the multifunction wall and a closed door unit withdrawal creates a barrier between the operator and all live parts.
The ABB MNS-MCC is designed, constructed and built to enhance the product features from ABB products such as:
ABB PST and PSTB Softstarter
ABB A-line Contactors
ABB ACS350, ACS550, and ACS800 variable frequency drives:
ABB DRIVES
ABB Tmax molded case breakers and Emax power breakers
With globally leading ABB products integrated in the MNS-MCC, ABB motor control center offers enhanced reliability. With the use of the ABB molded case breakers and their true current limiting protection and high interrupting capacities, each unit is well protected making high overall system interrupting short circuit ratings possible.
Applications