Call Us Toll-Free: (877) 268-3700 | sales@grossautomation.com
A9 - A300 CONTACTORS | AC OPERATED | UL RATED | 3 PHASE
Part Obsolete - Call For Replacement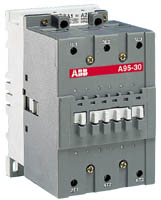 APPLICATION
A-Line contactors are mainly used for controlling 3-phase motors and for controlling power circuits corresponding to their operating characteristics up to 690 and even 1000VAC.
DESCRIPTION OF 3 POLE AND 4 POLE CONTACTORS (A9-A300)
All A-Line contactors can be assembled side by side. The add-on or built-in auxiliary contacts are suitable for low level currents.
PART NUMBER FINDER (A9 - A300 Series)
COIL VOLTAGE SELECTION CHART
Hz
Cntr Type
Volts
12
24
48
110
120
125
208
220
240
277
380
415
440
480
500
600
60
A
81
83
84
84
34
36
80
42
86
86
51
53
55
50
A
81
83
84
80
85
86
55
STANDARD PART NUMBERS