Call Us Toll-Free: (877) 268-3700 | sales@grossautomation.com
AE9 - AE110 CONTACTORS | DC OPERATED | UL RATED | 3 PHASE
Part Obsolete - Call For Replacement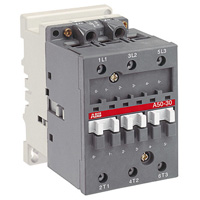 APPLICATION
A-Line contactors are mainly used for controlling 3-phase motors and for controlling power circuits corresponding to their operating characteristics up to 440VDC.
CONTROL CIRCUIT TYPES
AE Types: with laminated magnetic circuit and double-winding coil fed from DC supply via a CDL5 insertion contact mounted on the device. The CDL5 has an NC lagging contact for insertion of the second wiring.
PART NUMBER FINDER (AE9 - AE110 Series)
COIL VOLTAGE SELECTION CHART
Hz
Cntr Type
Volts
12
24
48
110
125
220
240
DC
AE
80
81
83
86
87
88
89
STANDARD PART NUMBERS