JOKAB Quick-Guard Safety Fencing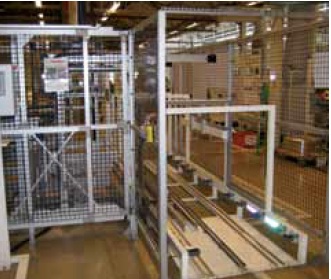 DESCRIPTION
ABB Jokab Safety Quick Guard Safety Fencing is a truly unique product offering that sets us aside from all our major component manufacturers. ABB JOKAB SAFETY is the only safety company that can offer the true total solution.
Quick-Guard is a very flexible fencing system consisting of a minimum of different components, such as aluminum profiles, patented assembly parts, net-locks, mesh, solid or noise reduction panels.Thanks to our patented screw-lock system, we can supply all brackets pre-mounted with fixing screws and nuts. No holes need to be drilled in the profiles and all cuts are made straight. Assembly and modification is therefore very easy.
By utilizing our AutoCAD-based SafeCAD program we are able to make system designs in 3-D very quickly. Drawings, cutting lists, etc. are generated from SafeCAD and the drawings can also be used for installation purposes.It is always easy to combine Quick-Guard E with Quick-Guard to achieve a complete system. It is also easy to adjust and modify when the production equipment is modified and/or moved.
Brackets come pre-mounted with screws & nuts
Easy to adjust, assemble and modify
Designed for various types of mesh, solid & noise reduction panels
Short delivery time
SafeCAD for drawing Quick-Guard in 3D
ADDITIONAL INFORMATION
For more infomration click the link below
Part Number
Product Description
ABB JOKAB Quick-Guard
Easy to Install Flexible & Stable Safety Fencing System